Good Samaritan rescues 2-year-old kidnapped girl
Good Samaritan Melba Nash Williams heard a Levi's Call on the news, the morning of Oct. 16, and prayed for the kidnapped girl. Driving home for lunch, Ms. Williams chanced upon the stolen vehicle and managed to set the child free.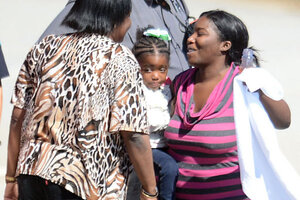 Kent D. Johnson/Atlanta Journal-Constitution/AP
Fulton, Ark., native Melba Nash Williams is being lauded as a hero for rescuing a 2-year-old who had been kidnapped during a car theft Tuesday, Oct. 16, in Georgia.
Ms. Williams, who graduated from Arkansas High School in 1971, said she was praying for the child after a Levi's Call, much like an Amber Alert, was issued at 9:30 a.m., Oct. 16, by Georgia emergency officials.
"I saw it on the news, and I began praying," said Williams, who moved from Texarkana, Ark., to Georgia in 2000.
The Levi's Call reported that a gray 2010 Dodge Caravan was stolen from a local church in Lithonia, Ga. The van was driven by the child's caregiver, who had left the child in the van, along with the keys, while she went inside the church. Minutes later, the caretaker went back to the parking lot to find the vehicle missing, the Atlanta Journal-Constitution reports.
Williams, a patient care technician, said it was reported that the van had a back window broken out that was covered in plastic.
---