Roid rage: Steroid use common in 5 percent of teens in new study
Teens using steroids may be driven by high performance pressure in sports and a muscular body ideal projected by the media, according to a new study of 2,800 Minnesota teens; steroid use was found to be equally common among athletes and non-athletes.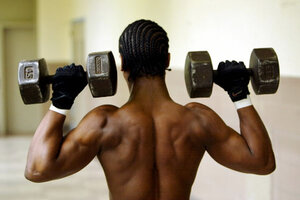 Melanie Stetson Freeman/ The Christian Science Monitor
About five percent of middle and high school students have used anabolic steroids to put on muscle, according to a new study in Minnesota.
RELATED: Top 5 bullying myths - What you don't know about bullying
In addition to steroid use, more than one-third of boys and one-fifth of girls in the study said they had used protein powder or shakes to gain muscle mass, and between 5 and 10 percent used non-steroid muscle-enhancing substances, such as creatine.
Researchers said a more muscular body ideal in the media may be one factor driving teens to do anything possible to get toned, as well as pressure to perform in sports.
"Really the pressure to start using [steroids] is in high school," said Linn Goldberg, an Oregon Health & Science University in Portland physician who works on preventing steroid and other substance use on high school teams. (He was not involved in the Minnesota study).
"You get the influence of older teens in high school, so when you're a 14-year-old that comes in, you have 17-year-olds who are the seniors, and they can have great influence as you progress into the next stage of your athletic career."
---