Christmas travel with kids? There's an app for that
Christmas holiday travel, especially with kids, can be overwhelming but smart-phone apps can smooth the experience. Finding airport food or the closest kid-friendly restaurant or play area just got way easier.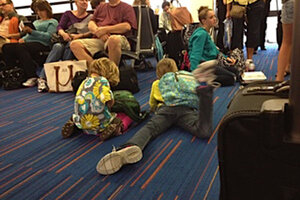 Staff
Crowded airports and delayed flights are unavoidable hallmarks of holiday travel, but a new app aims to make the experience more navigable.
TravelNerd is designed to alleviate the stumbling blocks that can arise during air travel, such as finding amenities, or figuring out the most cost-effective form of transportation to and from the airport.
"We try to encompass the entire airport experience," said Alice Jao, vice president of travel media for San-Francisco-based company NerdWallet, which developed the app.
During the holiday rush, transportation to and from the airport and finding parking can be a hassle and expensive.
"You can spend a fair amount of money unconsciously paying for parking or transportation when you're not aware of what other lower cost options you might have," Ms. Jao explained.
To help consumers find the most suitable option, the app provides a run-down of ground transportation options available, including shuttles, taxis, and public transit, along with their estimated cost and travel time to destination points within a city.
"If you're not in a rush and you're going for a vacation you might just want the cheapest option," Jao added.
---