Marines T-shirt ban: Superintendent on student's side, not teacher's
A de facto Marines T-shirt ban by one Illinois teacher came under fire by school district administrators who say the shirt worn by a 14-year-old student is within the limits set by the dress code. Now the boy's father wants the dress code to be explicit so Marines T-shirts are not banned again.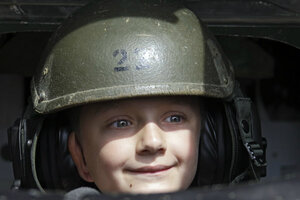 Associated Press
Semper forget about it.
A 14-year-old student in Illinois donning a US Marines T-shirt with two M16 rifles layered on top the word Marines was asked by his eighth grade reading teacher to remove the shirt, citing the school's dress code.
The teacher, Karen Deverell, said the weapon graphics made the shirt problematic, according to Foxnews.com. School district administrators have come out in support of the teenager, and now the boy's father wants the dress code policy to undergo some fine-tuning to do away with any ambiguity.
"My son is very proud of the Marines, in fact, of all the services," Daniel McIntyre of Genoa, Ill., told Foxnews.com. "So he wears it with pride. There are two rifles crossed underneath the word 'Marines' on the shirt, but to me that should be overlooked. It's more about the marines instead of the rifles."
Ms. Deverell told the teenager to wear his shirt inside out or be suspended. Previous school days where he wore the shirt ended without incident, Mr. McIntyre said.
---