At prom, flowers not just for corsages and boutonnieres anymore
Prom flowers these days are not only something to stick on a lapel or strap around a wrist. New arrangements created by creative florists have flowers popping up on prom attire from head to toe.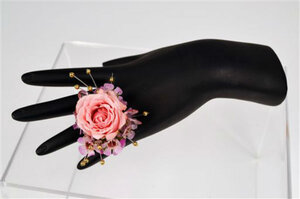 Gillespie Florists/Associated Press
The elaborate invitation has been proffered and accepted, the limo rented and the outfits coordinated, so what's next when planning for prom?
That traditional pop of spring, of course, in the corsage and boutonniere.
Once a sweet surprise and often all white to go with any outfit, prom flowers have made the leap into the new millennium with glitzy embellishments, jewelry attachments, and a world of creativity for the florists who design them.
No more scratchy, throwaway wristbands (unless you want one) and no more fumbling with straight pins as your nervous date squirms. Today's corsages don't even have to be corsages. Flowers can be worn on the head, upper arm or shoe, at the shoulder, on a necklace, as a ring or even stuck right onto a bare back or leg.
These days, flowers have taken their place as a key accessory rather than mere appendage handed over in time for photos before heading out the door.
"Everyone wants to be unique and different from someone else and that's a big deal, trying to do something different," said Jasmine Snow, accessories editor for Seventeen magazine. "It's so cool to be able to try these new modern takes on using fresh flowers as opposed to just doing the normal."
Attachments
Bangles, beads, multiple strands of rhinestones, fancy cuff bracelets in silver, gold or any wire creation imaginable have replaced the cheapy wristlets of corsages past. Slap bracelets are also used as a base, easily painted or sprayed with glitter to match an overall look. Some florists stock options but invite customers to bring along their own jewelry.
"These days you can safely glue on so you don't damage the jewelry, and then the girl has something to keep after prom instead of us being 20 years later with dry old roses. You've actually got this bracelet or this necklace that you can look back at and go, 'Oh, that was so much fun,'" said Della Mendenhall, a manager and product developer at Gillespie Florists in Indianapolis.
---