US youth homicide rate lowest in years despite high-profile tragedies
The US homicide rate for victims ages 10 to 24 is down by half since 1993. Despite the tragic shootings at schools in the past two decades, the statistics suggest kids are safer now.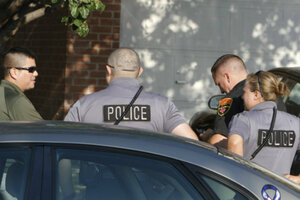 AP/Star-Telegram, David Kent
The homicide rate for older children and young adults has hit its lowest point in at least three decades, but the decline has been slowing, according to a new government report.
In 2010, the homicide rate for victims ages 10 to 24 was less than half the rate seen in 1993, when there was an explosion in crime tied to crack cocaine.
The report released yesterday echoes earlier findings about a national decline in killings and other crimes, but offers a more focused look at what is one of the most affected groups. Ages 10 to 24 account for about a third of slaying victims. The highest homicide rates are consistently seen in people in their late teens and 20s.
"That's what drives the national numbers. That's the ballgame," said David Hemenway, director of the Harvard University's Injury Control Research Center. He was not involved in the new study.
There are various theories for the drop in youth killings and other crimes since the early 1990s, ranging from the economy to police work or public health campaigns. None completely explain the trend, said Mr. Hemenway, a member of a National Academy of Sciences' group examining crime trends.
---