Prom progress: Less expense, more safety, less drama
(Read article summary)
Proms are making progress. Parents and children work together (gasp) to try to ensure a happy and safe prom celebration.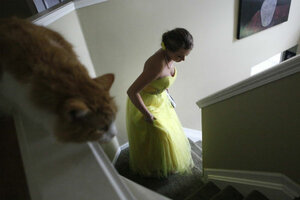 AP
I'm sure there is still a lot of drama around proms these days – both good and bad drama, but there also seems to be some progress in this cultural institution. My prom experience goes back many years to the time when it was a very big deal (sometimes ordeal). One had to have a date and be asked by the boy, even if he were put up to it by the machinations of mutual friends.
The dress, well it had to be the most special. Mine was made from a Jackie Kennedy inspired Vogue pattern of silk brocade my brother brought from Japan. And the hair, piled high and stuck together with at least a half can of Aqua Net (that smell still brings back memories).
Related: Are you a Helicopter Parent? Take our quiz to find out!
Oh, yes, and there was the date. Mine was, in my opinion, the best-looking guy in the high school. My priorities at the time were such that I programmed myself out of Advanced Placement classes to be with him.
The drama back then came from many sources, the decorations, the romantic couples, and the clever ways the guys snuck alcohol into the dance.
Now the date thing is neutralized to some degree. Teenagers often go in groups rather than paired up and they seem to have just as much fun. The awkward, expensive dinner before the prom is now in some cases replaced with a nice little "cocktail" party or dinner provided by the parents and where the parents attend and take gobs of photos. Some schools include a light buffet at the prom site to offset the dinner hurdle.
---