Proms and princesses: The Disney generation grows up
(Read article summary)
Proms and princesses: The Disney generation grows up and goes to high school, but the desire to look and feel like a princess does not necessarily go away. Savvy marketers have capitalized on the trend, and parents are paying for it.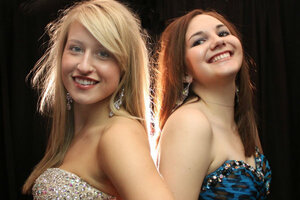 Mark Watson/Black Hills Pioneer/AP
What do little girls in princess dresses and teenagers at proms have in common? More than you might think!
Last week, a new survey found that nationwide, U.S. teens and their families will spend an average of $1,000 on this year's prom. In my region, the northeast, the average is double that–a whopping $2,000 per family. With such numbers, the article argues, "Prom is the new wedding."
Related: Are you a Helicopter Parent? Take our quiz to find out!
Why is lavish spending on proms on the rise? USA Today reports:
Teen girls view prom as their "red-carpet moment" and are "heavily influenced" by celebrities who walk actual red carpets in designer gowns. "It's a rite of passage, and there's a legacy of how you look at your prom. Girls want to dress to impress."
In other words, the intense consumerism of prom may be fueled by a wish to be like a celebrity for a night: the center of attention, all eyes on her, enjoying the spotlight.
---