Free games: the power of a kid's imagination vs. gigabytes
(Read article summary)
Free games needed for your kids this summer? Look no further then their own imaginations, give them unstructured time, and encourage creation. It can make a messy kitchen table, but too much media can create another kind of mess.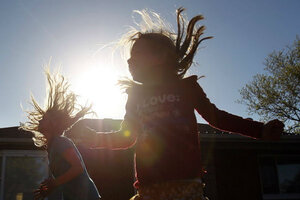 Drew Nash/The Times-News/AP
Parents these days enroll their children in lots of enriching summer camps and classes. Lucky kids. And other lucky kids just putter around their homes or yards pretending. "Let's pretend" were the words that commenced most of childhood play for generations. With rich imaginations children created exotic and fantastic worlds in which they were the main players.
Empty packing boxes became all kinds of little shops and vehicles. A line of chairs in the dining room became a bus or train. A bedspread thrown over a sawhorse became our tent on the Amazon. In our own attic was a box of fancy dresses, suits, hats and old jewelry. We became mom and dad or duke and duchess.
I have nothing against the kind of "enriched childhood" many parents are trying to create. I just don't want kids to miss the richness that comes from their own unique imaginations.
When I see the kindergarten children in a school where I'm the psychologist with baskets of dress-ups in their play area, I am grateful. This may be one of the few places where these developing minds get to exercise the capacity to imagine. Too often these days children's imaginations are hijacked by television or by toys that require a specific story line.
---