BFF or parent? How to navigate parent-child friendships
(Read article summary)
BFF, or best friends forever, qualities – sharing secrets, overprotection, blurry boundaries – can create problems in the parent-child relationship, but that doesn't mean parents can't be friends with their kids.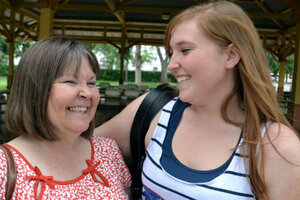 P. Solomon Banda/AP
Are you trying to be your child's "best friend forever"? Or are you a friend to your child? All kinds of strings are attached to BFFs, but a true friend should involve no strings whatsoever. Maybe it's the qualities of a BFF parent that make us think that friendship should not enter the parent/child relationship.
All the "experts" say you shouldn't be your child's friend. Why not? I have a hard time understanding that point of view. Is it because we want to be able to punish, reprimand, and control our children? Is it because we want more power over them than a friend would have? I want to examine this friendship idea.
What is a friend? Someone you can count on; someone who is loyal, honest, and trustworthy; someone you really like and even love; someone you want in your life for a very long time; someone you empathize with who can empathize with you; someone who gives you a shoulder to cry on, listens, and understands your problems without fixing them or giving unwanted advice; someone who doesn't talk about you behind your back but instead has your back; someone you really like being with because you can be yourself. Wouldn't you like to be that for your child?
Are you afraid that being your child's friend means not being able to hold him accountable because your authority would be undermined? Don't you hold your friends accountable for their behavior? Good friendships are lost over less. When we can't say no to our friends, hold them accountable for certain behavior, or speak honestly, it indicates poor boundaries – not a great foundation for friendship.
I see no reason we cannot be friends with our children. But there is a difference between being friends and being a BFF parent.
The BFF Parent:
---