Dogs, cats make for healthy babies, says study. Bring on the fur.
(Read article summary)
A new study says that young babies living with dogs and cats tend to be healthier than those without four-legged friends. What a relief.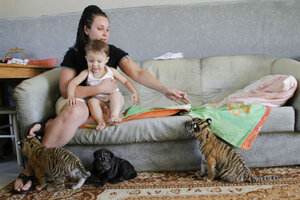 Igor Yakunin/AP
This is the most gratifying study I've seen in a while: Researchers have determined that babies who grow up with dogs and cats (but especially dogs) tend to be healthier than their non-pet owning compatriots.
The study, which was published earlier this week in the journal "Pediatrics," followed 397 children in eastern or middle Finland through the first year of life, and asked parents to fill out weekly diaries both about the babies' contacts with furry friends and their health. The parents also filled out a questionnaire when the kids were one year old.
The verdict: dogs are awesome. Cats are pretty cool, too. (OK, that's not really the scientific conclusion, but you get the point.)
More specifically, the researchers found that children with dogs inside the house were the least likely group to report various sorts of illness or use of antibiotic drugs, and the group that spent the greatest percentage of time in the "healthy" category.

Contact with indoor cats were also helpful, but the dog-owning babies were the ones who seemed to reap the most health benefits.
---