Michelle Obama speech: Adds Dad to Ann Romney's tired mom
(Read article summary)
Michelle Obama and Ann Romney speeches: Agreement that moms are tired on both sides of the aisle. GOP equates parenting with mothering; Democrats seem to see parenting issues as family issues – with Dad just as tired as Mom.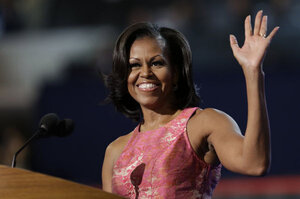 AP/David Goldman
Mom is still tired. But this time, so is Dad.
Last week, during the Republican National Convention, we wrote about how Ann Romney's speech focused on the trials of Mom – how she always has to work a little bit harder than Dad, how she worries more about elderly parents and school assignments, how she is really just wiped.
"We salute you and sing your praises," the wife of presidential hopeful Mitt Romney said to the mothers of America. (Yup, motherhood and apple pie. Love the conventions.)
RELATED: Are you a Helicopter Parent? Take our quiz!
Well, last night first lady Michelle Obama took center stage, and it turns out that moms on the left side of the aisle are pretty darn tired, too. Back in Chicago, Ms. Obama recalled, she and Barack had date nights that would include either dinner or a movie – "because as an exhausted mom, I couldn't stay awake for both."
For most of the speech, however, Obama took a rather different mommy approach than did Ms. Romney. She certainly included some passionate comments about her daughters – she talked of her worries about uprooting them for life in the White House, for instance, and said, emotionally, that "my most important title is still 'mom in chief.' My daughters are still the heart of my heart and the center of my world."
But there was a lot less "I love women!" coming from Obama.
Instead, there were more personal anecdotes of the women and men in her and President Obama's families working to make ends meet – President Obama's single mother trying to raise a son, his grandmother hitting the glass ceiling, the first lady's father putting on his uniform every day despite aching from multiple sclerosis and coming back in the evening to give Michelle and her brother a hug. And in Michelle Obama's speech, the dads worried about kids, too. Not just financially.
---