Rescue dog: Albie breaks into new territory, puppy play date
(Read article summary)
Albie got a new best friend when the Zheutlin family were asked to babysit Wilson, another lab from Labs4Rescue, who needed a crash-pad for the night.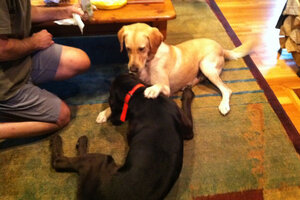 Peter Zheutlin
When the good people at Labs4Rescue, through whom we adopted Albie, called and asked if we could help another Lab in need, we said, "yes," of course. It wasn't a big request.
A chocolate Lab, who'd come north from the same part of Louisiana as our pup, was going to be fostered in a home not far from ours until a permanent home could be found. But the foster "mom" couldn't get to the shelter before it closed on the assigned day. Could we pick up Wilson and keep him with us for a few hours?
RELATED: Top 5 bullying myths - What you don't know about bullying
When my wife, Judy, and I came home with Wilson we weren't sure what to expect. Would Albie turn on him in a fit of jealous rage? Would he get territorial about our house and his toys? Would these two male Labs get along or get into a fight? In short, it was just like any other play date we'd arranged for our boys when they were little.
At first, Wilson and Albie could barely contain their excitement. In the backyard they jumped on each other, nipped one another, growled and took turns trying to show each other who's boss. New to having a dog, it can sometimes be hard to discern true aggression from merely aggressive play, but for the most part it seemed like roughhousing with a few brief moments of, "Hey, that hurt."
---