Nanny caught on camera, N.C. student paddling: Who can hit our children?
(Read article summary)
After news spread about a nanny caught on camera striking a child and North Carolina schools just now considering a stand against paddling in the classroom, a question needs to be asked: Who has the right to hit our children? No one. Not the nanny caught on camera, not N.C. teachers.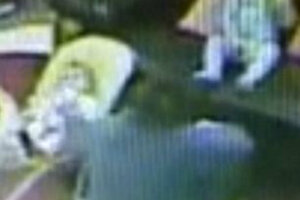 Youtube
As news breaks today about students being paddled in North Carolina schools and a Staten Island mom who watched a live feed from a hidden camera, powerless to stop as a nanny smacked her infant in the face, the question isn't just about the idea of using corporal punishment, but who (if anyone) has the right to hit our children?
I could not watch the video clip of Staten Island nanny Mamura Nasirova caught on camera slapping an infant across the face so hard the child rocked sideways, without thinking some dark thoughts about what I would do in that mother's place. The infant was not taking the bottle and the nanny repeatedly smacks the baby in the face. According to the Staten Island Advance, the mother rushed home and the nanny is now jailed on child endangerment charges.
My mother just called me after seeing the story on the news in New Jersey to remind of how, when I was the age of the baby in the video, my nanny kidnapped me and took me to her apartment in Queens. When my father and police arrived there she dangled me from a balcony as my father tried to convince her I was not possessed by demons telling me not to take my bottle. So apparently nanny screening hasn't progressed very far in the past 45 years.
Sadly, my father was an alcoholic who believed that he and his drunken friends all had the right to give me a fat lip or fracture if I displeased them in any way.
Parenting four sons is a challenge, especially through the terrible twos when there were times I used what Oprah once termed "the diaper pop" or a swat to the butt when the child was so far off the rails he was either endangering himself or another child. That was the limit for me. If someone else were to hit my child that would be a very bad day for everyone concerned.
---