Winter storm Nemo: Take the kids out, charge their creativity
(Read article summary)
Winter storm Nemo isn't necessarily cause to stay in: Some new research suggests not just holing up in the electronic world, but charging the creative batteries with some outdoor reality. Enjoy the storm, don't run from it!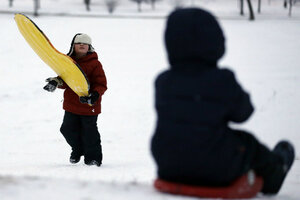 Associated Press
Winter storm Nemo threatens to bury the Northeast in two feet of snow this weekend, initiating the obligatory pre-blizzard blitz on the grocery store as families scramble to stock up on cases of toilet paper, gallons of milk, and snacking provisions before schools close on Friday. The storm is likely to shut down much of New England, however for families, being snowed in does not have to mean the family has to be trapped inside.
It may seem like a distant memory for many New Englanders, but walking in a winter wonderland is what the Northeast is all about. So this weekend, as the snow piles up, bundle up the family, head outside and have a snowball fight, build a snowman, or just take a walk and enjoy the hush that freshly fallen snow brings. The kids may grumble at first, but in the end, you will all be surprised at how much fun they have. Beyond that, recent studies suggest they will learn a lot too.
In December, researchers from the University of Utah offered up a study that says spending time in nature and away from electronic tethers to the civilized world actually boosts people's ability to solve problems creatively.
The study's psychologists took adults backpacking into the Utah canyons for four days without their electronics. At the end of the trip, the participants actually scored higher on tests designed to measure their creative problem solving skills than they did before starting their hike. While this study focused on adults, there is good reason to believe that quality time outside could provide a similar benefit to children.
---