Michelle Obama's arms are real; arm-lift cosmetic surgery is just skin deep
(Read article summary)
Michelle Obama's arms — toned and lithely — are inspiring. Unfortunately, they've inspired 15,000 people to undergo arm-lift cosmetic surgery. The whole notion of beauty, twisted again.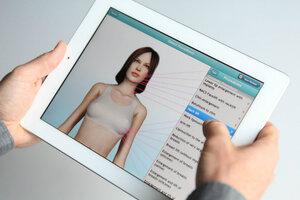 PR Newsire
It's my first day back to Modern Parenthood after maternity leave. So you can imagine the excitement when I saw this new item from the American Society of Plastic Surgeons: arm lift surgery, the group has announced, increased 4,473 percent in the past decade, making it the fastest rising cosmetic surgery around.
Yes, that's upper arm tucks. And why not? Last year we wrote about chin implants becoming trendy. If you can do chins, might as well throw arms in there, too, right? After all, as the ASPS found in a poll that "women are paying closer attention to the arms of female celebrities."
Call it the Michelle Obama effect, plastic surgery style. Toned, muscle-bound arms are in. So start snipping.
Sigh.
This is a parenting blog, so it's tempting to start ranting now about the message this sends to our little girls. (I have two now. I'm sensitive to this stuff.) Or to write about how it's so not OK to make me take a second look at my own triceps two months postpartum.
---