Empty nest: Diverse paths find an American family all in China, then gone
(Read article summary)
An empty nest fills when an American couple goes to China to work, and finds their trailing offspring with them. But now the Beijing-ensconced parents see their adult kids moving back to the US.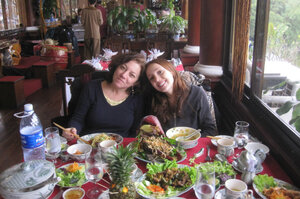 Courtesy of Debra Bruno
I had just returned to a Beijing that was hot, muggy, and so polluted my eyes stung, after a lovely sojourn visiting family and friends in the United States.
My phone rang. It was my daughter, wanting to vent about something. We chatted for a while.
An hour later, my phone rang again. It was my son, welcoming me back to China and wanting to catch up.
There's certainly nothing odd about a mother chatting with her grown children after a trip. But what's odd about this is that both of my 20-something children also live in China, a situation that is a happy combination of serendipity and choice. I know many expat families here in Beijing – but all of them are families with school-age children, mainly settled in the city's suburbs to be near the international schools. The couples our age – let's just say we're middle-aged – have grown children who live in other places.
My husband Bob and I get a kick out of seeing the reactions on people's faces when they ask us if we get to see our children much.
"Yes," we answer. "They live in China."
Daniel, our eldest, claims we followed him here, since he was the family pioneer, choosing a job teaching English in China almost five years ago after he graduated from college and bounced around in short-term jobs for a while. It's been a choice he's enjoyed, mainly, I suspect, because of the rock-star status he is awarded as a young male from "Meiguo" (Chinese, for USA) teaching in university classrooms full of Chinese college students, mostly female. He now lives in Guangzhou (Beijing is to Guangzhou as New York is to Miami, in terms of distance) but calls and visits frequently.
---