Overweight people stressed by being called fat will eat more, study says
(Read article summary)
Overweight people teased for their weight – fat shaming – will actually eat more, a study says. For overweight peoples' family, friends, and peers, "just being honest" about fat gain can have consequences.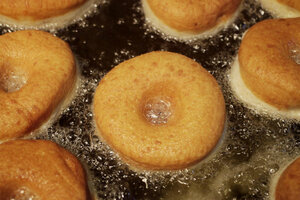 AP Photo
"Fat shaming" and weight discrimination, be it from Abercrombie & Fitch or your university professor, are not the ways to help people shape up physically, socially, or academically according to a report published this week in the journal PLoS ONE.
"Weight discrimination, in addition to being hurtful and demeaning, has real consequences for the individual's physical health," says study author Angelina Sutin, a psychologist and assistant professor at the Florida State University College of Medicine in Tallahassee, Fla., NBC reports.
Weight shaming, the study found, can send people to the Twinkie Zone faster than you can say "binge."
Rebecca Puhl, deputy director of the Rudd Center for Food Policy and Obesity at Yale University, told NBC:
"Stigma and discrimination are really stressors, and, unfortunately, for many people, they're chronic stressors. And we know that eating is a common reaction to stress and anxiety -- that people often engage in more food consumption or more binge eating in response to stressors, so there is a logical connection here in terms of some of the maladaptive coping strategies to try to deal with the stress of being stigmatized."
How is it that we didn't know this by now?
I say this from the perspective of a life-long, diet yo-yo fat girl. Telling me I need to lose weight has never worked for me, or any obese person I have ever met.
---