Forced sexual contact among teens common, says study
(Read article summary)
A disturbing new study reveals that 9 percent of youths aged 14 to 21 have coerced or forced someone into sexual contact and spells out a more complicated problem than 'no means no' rhetoric can address.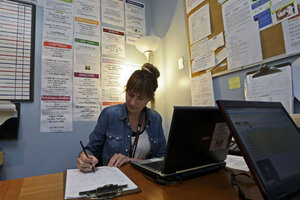 Reed Saxon/AP
A new study suggests that 9 percent of youths aged 14 to 21 admitted to some kind of forced sexual contact (using anything from guilt to physical force) and that half of them blamed their victims. And as is generally the case with self-reported findings like this, the true numbers could be larger.
The study of 1,058 young people, by researchers from the Center for Innovative Public Health Research in San Clemente, Calif. and the University of New Hampshire, also found that perpetrators of sexual coercion and/or violence reported greater exposure to violent X-rated content. This isn't proof of causation, but is certainly intriguing for parents and policymakers who are trying to disentangle the relationship between media consumption and bad (or even criminal) behavior.
That this is important should be self-evident, but the study does a good job of quickly explaining its own significance:
With more than 1 million victims and associated costs of almost $127 billion each year, sexual violence is a significant public health problem. In addition to societal costs, the impact on the individual can be high, including increased rates of post-traumatic stress disorder, physical health problems, and suicidal behavior.
The study also illuminates the way in which victims and perpetrators relate to one another, and how far behind law-enforcement is in terms of addressing the problem of coerced sex and sexual assault:
---