Cider-braised turkey drumsticks and thighs
(Read article summary)
Having a smaller Thanksgiving gathering? Try braising turkey drumsticks instead of roasting a whole bird.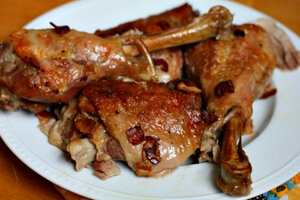 The Gourmand Mom
You may recall that my recommendation for roasting the perfect Thanksgiving turkey is to roast it in parts, rather than as a whole bird. By roasting the breast separate from the drumsticks and thighs, you can cook each part to juicy perfection, rather than allowing the the breast to dry out while waiting for the legs and thighs to come up to temperature.
If desired, you can roast a few drumsticks and thighs alongside the breast, at the same temperature and with the same seasonings. Cooked separate from the breast, the drumsticks and thighs will cook more quickly (in about the same time as the breast). Use an instant read meat thermometer to test for doneness, since cooking time will vary based on weight and your oven's exact temperature. Aim for 160-165 degrees for the breast and 170-175 degrees for the thighs and drumsticks.
Or for a little something different, try braising the dark meat using this very simple, very flavorful preparation. The meat will become fall-off-the-bone tender and you'll have a delicious, ready-made sauce to serve along with it! You can even braise the parts the day before and reheat on the stovetop at a gentle simmer when you're ready to serve (though the skin will lose some crispiness with reheating).
Give it a try! I think you'll like it!
And you can click back to HERE to see last year's post on how to roast a turkey breast.
Bacon and Cider Braised Turkey
Serves 4
---