Cranberry chipotle appetizer meatballs
(Read article summary)
A sweet, savory, spicy, and surprisingly delicious appetizer.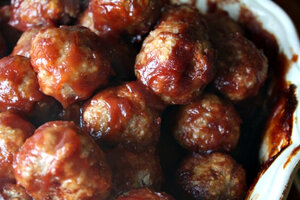 The Gourmand Mom
I hosted a little cookie exchange this weekend. It was really just an excuse to engage in a bit of holiday cheer with a few of my best girl friends … as if we needed an excuse! We enjoyed treats by the light of the Christmas tree. Then we loaded up our trays with the assortment of delicious cookies and homemade bread before saying good night. I love the holiday season exactly for such festive gatherings.
I made a few snacks for my cookie party, including some spinach-gorgonzola triangles (think spanakopita, made with gorgonzola cheese instead of feta) and these cranberry meatballs. They're inspired by a recipe I spotted in an advertisement for Ocean Spray cranberry sauce.
Ocean Spray's recipe calls for a combination of jellied cranberry sauce and chili sauce over frozen cocktail meatballs. It reminds me of the sweet and sour meatballs which my mom used to make with a combination of grape jelly and ketchup. It was one of her standard dishes to bring to potlucks and they were surprisingly delicious. You'd never have guessed the sauce was made from jelly and ketchup, of all things!
I knew there was something to this cranberry meatball idea. So, I made a few little tweaks to raise the homemade factor in the recipe and to kick up the flavor with a bit of chipotle heat. The result is sweet, savory, spicy, and surprisingly delicious. These tasty little meatballs are going to make a prompt reappearance on my Christmas Eve menu!
Cranberry Chipotle Appetizer Meatballs
Makes about 60 appetizer-sized meatballs
---