Ginger citrus marmalade
(Read article summary)
Losing power and refrigeration after a fierce Uganda thunderstorm meant it was the perfect time to make ginger citrus marmalade.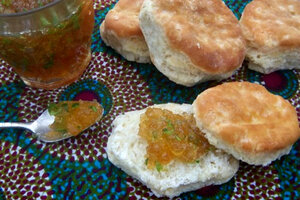 Layla Eplett
Lately, you could say I've been cooking up a storm. Rainy season concluded with a bang (and a boom and a pow!) with the worst storm to hit Gulu in the past four years. Being from Florida, which ranks first for thunderstorms in the United States, I was used to them. While I wouldn't exactly describe them as creature comforts, they were a nice reminder of home when I moved to Uganda.
The World Meteorological Society reports that Uganda's capital city, Kampala, has more lightning annually than any other city in the world. Gulu is in northern Uganda, and although the storms might not be quite as powerful as in Kampala, they've certainly left us much more powerless.
After storms like this, trees and power lines cover the streets and power may not be back for two weeks. This means a few things. Given that Africa time is slower than molasses, it will more likely be out for a month. This also means I probably should avoid stepping on the live wires outside my house. But as scary as electrocution sounds, it isn't as terrifying as this: no power means no hairdryer.
Being without power has meant one thing – I'm all about preserving the things that are important to me. First, of course, is my hair – I'll try for as long as I can to preserve my last blow dry by putting baby powder on my greasy roots. Next would be to preserve my sanity. Life can get really boring without electricity but I've found cooking really helps. This leads me to the last thing I'm trying to preserve – good food.
When I'm without refrigeration, I can only make things that won't spoil overnight. So losing power means there could not be a better time to start experimenting with preservemaking!
---