Fresh fava puree and garlicky sauteed chicory
(Read article summary)
Fava beans are in full swing right now making it the perfect time for this fresh spring appetizer.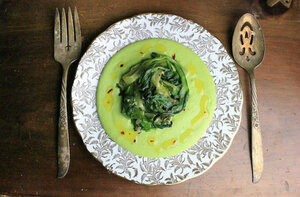 We Are Never Full
I remember seeing this dish in a food magazine years ago and it was one of those images that stuck in my head. The winter version of this dish isn't a colorful or particular beautiful dish (beauty really is in the eye of the beholder), but to me it was gorgeous and extremely rustic. This is the type of food Jonny and I love to eat the most even though we may showcase some of our more daring dishes on We Are Never Full.
Last September, we traveled to Maine for a long weekend, one our first times away from our then 11-month old. We had a ball (as you can imagine) even though it rained virtually the whole time. In our last hours in Portland, we ran to seek cover from the rain into a place we had been eyeing up for days – Rabelais book store (we later discovered it was a pretty darn famous and beloved place) – a store dedicated to out of print and hard to find (and easy to find) food and drink books.
We must've been in that book store for hours and were very close to spending more money in that shop than we had on the whole Maine trip. After begrudgingly putting away 12 cookbooks we just couldn't afford to buy, we couldn't let go of Puglia in Cucina. We had to pay the conversion of euros to dollars and knew this would be a pretty pricy purchase (say that 10 times fast) but we couldn't let go of it.
---