Brownies with salted caramel
(Read article summary)
A delicious fudgy brownie with a gooey salted caramel center.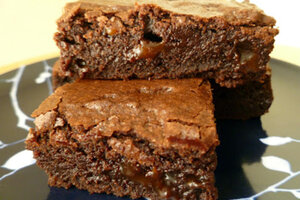 The Pastry Chef's Baking
One of the things I love about getting inspiration from other foodie bloggers is coming across new baking ingredients I hadn't tried before or, in some cases, had never even heard of until I read about how someone used it for baking. And, thanks to my Amazon.com patronage (obsession), I can usually find it there and put it on my Amazon "wish list" to remind myself to order it or try to find it locally (Trader Joe's, Sur La Table, World Market, and Williams Sonoma are good sources for instant gratification).
My Amazon wish list used to be full of books – now it's full of ingredients I want to try or have already tried and would reorder:
---