Zucchini apricot cake with lemon glaze
(Read article summary)
Use your bounty of zucchini in this delicious, moist cake.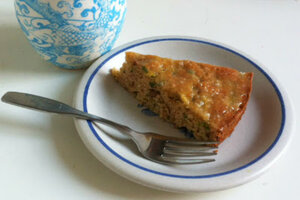 Eat. Run. Read.
I was raised to be a science nerd (ah even the best-laid plans don't always pan out). My dad taught high school chemistry and physics, so my childhood toys included chemistry sets, K'NEX, crystal growing kits, and a real set of test tubes from his school lab. I liked "experimenting" – whether that be melting crayons in the microwave (not advisable) or feeding my little sister glue just to see what would happen (also not advisable).
I suppose you could say that my love of baking stems from that science background. Mix X, Y, and Z ingredients and you can pretty reliably expect a certain result. But what I love most about baking is the "experimenting" factor. I know that if I follow a recipe exactly it will probably turn out well, but I always can't help but wonder – what if I switch out this for that? Or add this? Or maybe try this?
Some of these experiments turn out poorly, because if you deviate too far from the baking science things can go horribly wrong. But sometimes kitchen magic happens and things turn out absolutely deliciously.

Case in point is this zucchini apricot olive oil cake with lemon glaze. It sounds like a weird combination of potentially too many things, but trust me, it is absolutely perfect.
The cake is moist thanks to the zucchini, the apricots add a nice sweet tang to contrast with the toasted walnuts, and the lemon glaze – oh the lemon glaze! Please just make this so you can eat it ASAP. It is by far the best cake I've baked in quite a while.
Zucchini Apricot Olive Oil Cake with Lemon Glaze
(Adapted from Sparrows and Spatulas)
---