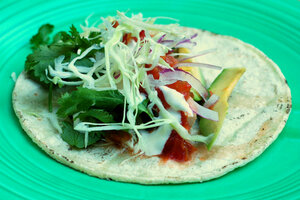 The Garden of Eating
One of the first recipes I ever posted way back in 2007 was for Baja-style fish tacos. The fish is beer battered and then fried and served on corn tortillas with finely shredded cabbage, salsa, and a host of delicious sides and condiments. They. Are. Simply. To. Die. For.
But they are also a lot of work to make, thanks to the beer battering and frying aspect of the recipe. And a lot has changed at our house since 2007, namely that we now have a very cute, very demanding 3-year-old and another baby on the way this fall. Also, it's been roughly 98 degrees F. a lot of the time lately which makes the idea of standing over a skillet of boiling oil for 20 minutes even less appealing than I'd usually find it. (What I really excel at lately is lying down in an air-conditioned room, reading – I find I'm quite good at it.)
But we still have to eat! And I still want everything to taste really good, in spite of the heat and our limited time and energy. So I've adapted a new, much easier, equally delicious, and far healthier version of fish tacos that we now make all the time.
The key is that the fish is grilled, instead of battered and fried. And in addition to being quick and easy, it's so light and flavorful and delicious this way, that I don't think I will ever go back to Baja unless I am at a restaurant or maybe when both my kids have gone off to college in about a million years from now.
You can use any kind of meaty white fish – tilapia, halibut, Mahi Mahi, etc. I used tilapia for this batch. You marinate the fillets in citrus juice (lemon, lime, orange or any combo thereof is good), olive oil, salt and pepper, some cilantro or other herbs and either a little thinly sliced onion or shallot or a pressed clove of garlic.
---