Good fortune egg rolls
(Read article summary)
There's still time to celebrate the Chinese New Year. Stuff egg rolls with a chicken and veggie filling, and deep fry them for crispy treat to dip in a sweet and sour sauce.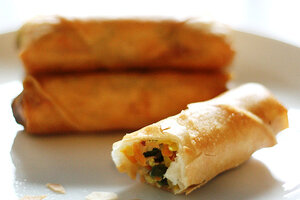 The Asian Grandmothers Cookbook
The Lunar New Year celebration lasts 15 days so there's still plenty of time to eat your fill of good-fortune and auspicious foods for a prosperous year ahead.
Egg rolls (also called fried spring rolls) are a favorite all year round but they're considered an auspicious food during the new year because they resemble gold bars and thus symbolize wealth and prosperity.
Here's my recipe, enjoy!
Fried egg rolls
Makes: about 25 egg rolls
Time: 1-1/2 hours
I've adapted this lumpia (Filipino egg rolls) recipe from "The Asian Grandmothers Cookbook." I used carrots because in Mandarin, orange carrots are called hong luo bo, i.e. "red carrots," and red symbolizes good fortune, while the yellow carrots are close enough to a golden hue and gold symbolizes wealth.
Chinese chives are known as jiu cai which sounds like "forever vegetable," and who doesn't want a long life? Feel free to add or subtract whatever ingredients you'd like. Ground pork, glass noodles, cabbage, bamboo shoots, mushrooms, etc., are all great ingredients to add to the mix. The filling can be made ahead and stored in the refrigerator for up to 3 days.
2 teaspoons salt, divided
1 pound skinless, boneless chicken thighs
1 tablespoon vegetable oil
1 medium onion, finely chopped (1 cup)
3 cloves garlic, minced (1 tablespoon)
3 medium orange and yellow carrots, shredded (1-1/2 cups)
1 cup (4 ounces) finely chopped green beans
1 stalk Chinese chives, finely chopped
2 teaspoons soy sauce
Freshly ground black pepper
1 package egg roll wrappers (usually 25 wrappers)
1 egg white, beaten, or water for sealing
3 cups (or as needed) vegetable oil for deep-frying
Sweet and sour sauce (recipe follows)
---