Pasta with pea pesto and simple salt and pepper chicken
(Read article summary)
Super simple, and doable even without a food processor, this pesto comes together with ingredients you're likely to have on-hand. Pair it with a quick chicken dish or tiny meatballs.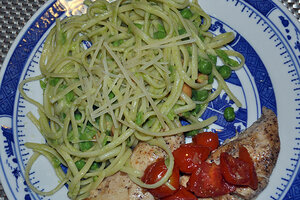 Laura Edwins/The Christian Science Monitor
So, if you're into food blogs you've probably come across Smitten Kitchen. I am a huge fan. I follow the blog religiously, read every post, and even own the Smitten Kitchen cookbook.
I've made Smitten Kitchen recipes for birthdays, potlucks, picnics, parties, and every day dinners. And what I've learned is not every Smitten Kitchen recipe is created equally. While author Deb Perelman strives to make the cooking process simple, using as few dishes as possible and streamlined ingredients, every so often she jumps the tracks and veers into really complicated territory. Hand-made ravioli? Homemade bagels? Sorry, not happening.
Now, a simple pasta topped with a pea pesto when I already have a huge bag of frozen peas in my freezer? That I can do! The one downside? I don't own a food processor (highly recommended when making pesto) or even a blender. Much like the kitchen Smitten Kitchen I was inspired by (a tiny New York number) my kitchen has zero counter space and little storage.
So what to do without a food processor? I used my favorite go-to kitchen tool, my good old hand mixer. Yes, took a little longer, and yes, my "pesto" was not as smooth as it would have been with a food processor, but it was definitely doable, and still delicious. And I'm betting there are others out there like me, cooking in tiny ill-stocked kitchens, sighing in frustration whenever an amazing recipe comes along that requires an expensive appliance they don't own. It may give your arm a workout, but this particular pesto is within reach.
---