Hot milk cake and strawberry caramel sauce
(Read article summary)
This simple Southern cake is a great go-to summer recipe, and wonderful vehicle for almost any fruit topping. Try it with strawberry caramel sauce and a scoop of vanilla ice cream.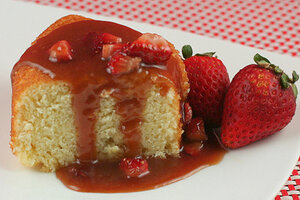 The Runaway Spoon
Leaf through the pages of any old Southern community cookbook, and you are likely to come across a version of this cake. And it might not draw your eye, being so plain and simple. I am sure I flipped past many times before I actually stopped to read one. But once I get intrigued, I search these recipes out and combine, refine and test them until I have an updated version with more accurate instructions.
And I am glad I didn't let this one languish, because it is now a go-to summer cake. It is immensely simple to make – no heavy equipment needed. Its simplicity makes it the perfect vehicle for all manner of summer toppings. Add any sliced fresh fruit or berry, maybe sugared to produce a little syrup, and a dollop of whipped cream or a scoop of ice cream and you've got a fresh, homemade beauty of a dessert.
I planned this post to highlight the cake, and how useful it is. But I wanted to try something a little more interesting than just fruit so I stumbled around in the kitchen until I came up with the sauce. I know it is tooting my own horn, but it is a stunner. Rich, sticky caramel sauce with this amazing background note of strawberry and the added bonus of chunks of fresh berries. It is magnificent with the cake, but try it over ice cream, or, as I admit to doing, simply with a spoon.
Hot milk cake and strawberry caramel sauce
I use a plain tube pan, often called a coffee cake pan, but a fluted or fancy one works just fine. You could also make it in a 9 by 13-inch pan. The sauce will keep covered in the fridge for up to three days. Delicious warm or cold.
Serves 10
For the cake:
1 cup whole milk
1/2 cup (1 stick) butter
4 eggs
2 cups granulated sugar
2 cups all-purpose flour
2 teaspoons baking powder
1/2 teaspoon salt
---