Vegetables become en vogue
(Read article summary)
Vegetable-focused and meatless meals are finding wider acceptance and celebration among European chefs, home cooks, and even school children.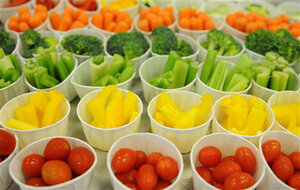 AP Photo/Reading Eagle, Lauren A. Little/File
A new day is dawning for vegetables in the culinary world. No longer are they just rogue companions to humorless rice on the plates of vegetarians. Veggies, as they are affectionately known, are being embraced by everyone from celebrities to school systems to home cooks. Even European chefs, who once disdained vegetarian food as a form of punishment, have elevated baby peas and Brussels sprouts to levels of haute cuisine.
It's a position that hasn't been easily won. Ever since Frances Moore Lappé's "Diet for Small Planet" took off as a bestseller in 1971 – declaring that more resources were used to raise cattle than feed the world – eschewing meat has been something of a political statement that railed against food waste and the unethical treatment of farm animals. For decades, nonmeat eaters and vegetables sagged under the labels of "vegetarian" and "agenda."
But suddenly wild ramps and zucchini blossoms are hip, and school children, who once fled at the sight of spinach, now munch on sesame kale chips with gusto. Take note: Vegetables are en vouge.
"I've always struggled with the 'vegetarian' label," cookbook said author Deborah Madison, who has written about vegetables for more than three decades, to The Washington Post. "When I began writing it was so much about a lifestyle. You were or you weren't and people didn't cross that line." Ms. Madison has recently published "Vegetable Literacy," which strives to educate home cooks on the delight of discovering flavor relationships within the vegetable family tree.
---