The perfect oatmeal cookie
(Read article summary)
Chewy and moist and yet still crispy around the edges. This may just be the perfect oatmeal raisin cookie recipe.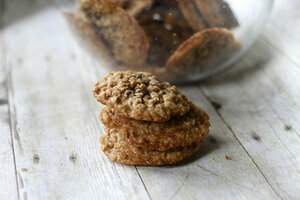 In Praise of Leftovers
I have finally found it – the perfect, crave-it oatmeal raisin cookie. Chewy, moist, crispy around the edges. Thanks to Alice Medrich, of course. And thanks to the continuing inspiration of my big, fat cookie jar from the antique mall. It really looks forlorn when it's empty.
For his birthday, I gave my father-in-law a jar of these and told him I'd refill the jar indefinitely with whatever he wanted. I gave him lots of choices this time around – brown butter snickerdoodles, molasses, salted chocolate. But he said he wanted oatmeal raisin again. This time, I was smart and made a double batch.
My friend Emily was supposed to come up last weekend. We've been planning it for a long time and had characteristically assembled little collections of gifts and hand-me-downs to exchange. We'd been sending anticipation texts, and Loretta spruced up her room. (That's where Emily sleeps when she comes.) But it didn't work out. We are both sad, but it was the right thing. And the silver lining, as I told her, was that I still felt like she was here and that my regular life was on hold. I didn't check e-mail. I played lots of card games with Wyatt. We went to the farmers market, the Ski to Sea parade, and the street fair. I made pancakes twice for the kids and am halfway through two new books. I sorted my craft supplies, slept in, made and photographed these cookies, and put off folding the laundry. Yancey and I managed a last-minute afternoon date and I exercised every day. In short, just what I needed.
I hope you're able to find some time like that soon. You might even find yourself reaching for your mixing bowls.
---