Strawberry jam for beginners
(Read article summary)
Mastering the art of homemade strawberry jam isn't as mysterious as it seems, as long as you follow these three simple tips.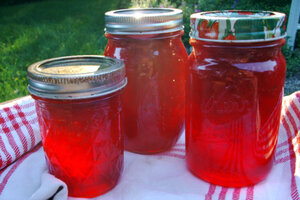 Owen Thomas
Homemade jam seemed so difficult and mysterious to me, something that could only be achieved after a career of trial and error littered with batches that failed to set. But the closer my wife and I moved to places that had nearby fields advertising "pick your own strawberries" – cheaper and therefore more tempting to acquire in mass quantities – the more the idea of making jam grew in my mind. I was determined to master the art of jam-making.
I had little family expertise to draw on. I had eaten homemade jam, but never had stood at the elbow of someone making it. I imagined a sweaty, daylong ordeal in a kitchen filled with steam and lava-hot strawberry slurry. But I knew someone who came closer than anyone else I knew to being the grandmotherly salt-of-the-earth Downeast Maine kind of home cook. If I asked her nicely, surely our friend Kathy would guide me through the arcane world of jam.
Kathy proved to be a willing mentor. She sent an effusive, detailed letter, single spaced with narrow margins. She said she'd tried everything over the years, from traditional recipes, to freezer jams, to "quick and easy" methods. She had used every variety of commercial pectin, and said that she (or at least people she knew) could taste the difference among them. Her wisdom, the fruit of decades, gave me courage. It was simple, too:
1. Use Sure-Jell pectin.
2. Use the Sure-Jell recipe in the box and do exactly what is says. (In other words, do not gasp at the amount of sugar you're going to dump in and decide to use less because "that can't possibly be right – 7 cups?" Yes, it is.)
To Kathy's advice, I add the obvious No. 3 for the beginning cook:
---