Fourth of July supper: New England poached salmon
(Read article summary)
Fourth of July marks the day the Declaration of Independence was read out over the streets of Boston. Many New Englanders mark Fourth of July with a meal of poached salmon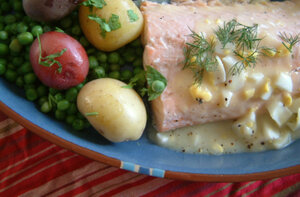 Kitchen Report
When most people hear the words "New England dinner" their first thoughts usually run toward a lobster dinner, a clambake, or an oyster shuck. But there is another kind of seafood that has a long association with the Fourth of July, and that is poached salmon with egg sauce.
The legend has it that Abigail Adams served Atlantic salmon, fresh garden peas, and new potatoes to John Adams on the first Fourth of July in 1776. And while many New Englanders admit to eating salmon on the Fourth of July, finding strong ties to Abigail Adams remains, well, fishy.
The first clue that this may be more of a treasured tradition promoted by a well-intentioned chef rather than fact: Mr. & Mrs. Adams were actually in separate cities on the first Fourth of July. Another clue suggests that John Adams thought July 2 should be celebrated as Independence Day. A third clue comes in the modern form of marketing, the kind of confidence that has declared that we have a National Chocolate Cake Day, and that April is Grilled Cheese Month. Also, doughnuts are free on the second Friday in June.
These declarations about food are eagerly adopted because it gives us an excuse to indulge in the foods we already like.
---