Pumpkin pizza party
(Read article summary)
Everyone loves a pizza party! Mix up the pumpkin pizza dough and pumpkin-tomato sauce ahead of time, then gather plenty of toppings, the kids, or a group of friends, and go to town.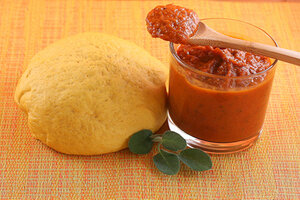 The Runaway Spoon
I have always loved interactive food – where everyone gets to participate in the making and serving of a meal. The pizza party is a great example of this – roll out the dough, choose the toppings, assemble the pizza and watch while they bake. It's fun for kids and grown-ups alike.
Fall and Halloween are great times to gather around a fun kitchen project. When the weather gets that little nip in the air, its nice to come inside to a warming meal. Add some pumpkin to the mix and it is a real fall meal. The pizza dough is simple to mix up and the sauce can be made ahead of time. Clear off the counter and let everyone go to work on their own creation.
Pumpkin pizza dough
1 tablespoon active yeast
1 teaspoon honey
1/2 cup warm water (about 110 degrees F.)
3-1/2 cups bread flour
1 cup pumpkin puree (from a 15 ounce can, remainder reserved)
2 tablespoons olive oil
1 teaspoon salt
1. Sprinkle the yeast into the bowl of a stand mixer. Add the honey and pour over the warm water. Give it a little stir and let it sit until foamy, about 5 minutes. Add the flour, pumpkin, olive oil, and salt and mix with the dough hook on a low setting until it all comes together. Scrape the sides of the bowl as needed. Work the dough with hook on low speed for 8–10 minutes until the dough is a soft, elastic ball that has cleaned all the flour and bits off the sides of the bowl. Push the dough back down if it starts to push over the top of the dough hook.
2. When the dough is kneaded, transfer the dough ball to a bowl greased with olive oil. Brush the top of the dough with olive oil, cover the bowl with plastic wrap and leave in a warm place to rise until doubled in size, about 1 hour.
3. Preheat the oven to 425 degrees F.
4. Punch down the risen dough and leave it to rest for 10 minutes. Sprinkle your counter lightly with corn meal. Divide the dough into 2 balls and shape each into a smooth disc. Working one ball at a time, use your hands to push the dough outward from the center, turning the dough 1/4 turn as you go, until you have a nice round pizza, about 10 – 12 inches around. Push and stretch the dough outward from the middle until it won't stretch any more. Leave the pizza base to rest for 5 minutes. Repeat with the next disc.
---