Apple cheesecake bars with walnut streusel topping
(Read article summary)
With a shortbread crust, an apple-cheesecake filling, and a crunchy walnut streusel topping, this dessert has it all. Save this recipe for a holiday dessert, or make it now for an afternoon treat.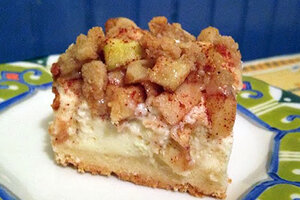 Eat. Run. Read.
Imagine your holiday dessert plate: there's a slice of apple pie on there because that's what the uncles like, there's a piece of cheesecake because that's what Sister 1 makes best, and maybe if you're lucky there's one of Auntie Robin's shortbread cookie in the corner. Clearly you stick your fork into all three treats at the same time, creating a tangy creamy bite of apple pie, with some buttery crunchiness in there, too.
Are you with me here? OK. Now imagine all that awesomeness baked into one bar. Yep, my apple kick continues with these apple cheesecake bars with walnut streusel topping, and they are good. Shortbread crust, cheesecake, apple-pie-like filling, and a crunchy, walnut streusel on top.
There's a lot of apple going on in here – three big Granny Smith apples cook down to a whole layer of spicy goodness.
I'm not saying you should make these instead of your other holiday desserts, but it wouldn't hurt if you made them in advance, just to get yourself in a sufficiently dessert-happy holiday season mood.
Apple cheesecake bars with walnut streusel topping
Crust
1-3/4 cups all-purpose flour
2/3 cup powdered sugar
1/4 cup cornstarch
3/4 teaspoon salt
12 tablespoons unsalted butter (1-1/2 sticks) at very cool room temperature, cut into 1-inch pieces, plus extra for greasing pan
Filling
2 8-ounce packages cream cheese, softened
1/2 cup sugar, plus 2 tablespoons, divided
2 large eggs
1 teaspoon vanilla extract
3 Granny Smith apples, peeled, cored and finely chopped
1/2 teaspoon ground cinnamon
1/4 teaspoon ground nutmeg
Streusel
---