Pumpkin pancakes with butter pecan syrup
(Read article summary)
What's better on a chilly fall morning than pumpkin pancakes? Butter pecan syrup, and maybe even a side of bacon, turns breakfast into a special meal.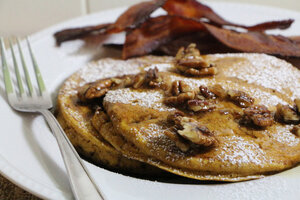 The Gourmand Mom
After an extended period of unusually warm temperatures, autumn has taken its inevitable hold on our weather. There's a definite chill in the air, which requires down jackets, more so than fleecy hoodies. As usual, the kids trick-or-treated with winter coats stuffed under their costumes this year. It won't be long before we see our first snow.
Despite the chilly temps, last weekend was positively beautiful. The leaves are at their peak of vibrant color and the grass is still (mostly) green. And on this gorgeous weekend, I celebrated my birthday. We began our festivities on Saturday morning with these pumpkin pancakes, drizzled in warm butter pecan syrup. Then, we ended the weekend with a full turkey dinner at a crowded table of family and friends. I gave thanks a month early, for another year of good food, good family, and good friends.
Warm butter pecan syrup seemed like the ideal accompaniment for these seasonally perfect pumpkin pancakes. My love for butter pecan syrup is so intense, that I have made trips to IHOP for the sole reason of dipping stuff in their famous syrup. A quick search for "copycat" recipes for my favorite IHOP syrup revealed numerous blends of sugar with water and a variety of artificial extracts. My version takes a more natural approach, using pure maple syrup, melted butter, and non-imitation vanilla extract. Toasting chopped pecans in a bit of butter brings out the buttery-nutty flavor in this crave-worthy pancake topper.
---