Thai red curry noodles
(Read article summary)
A tangle of fried noodles and a squeeze of lime liven up this dinner party dish, creating a tasty mélange of sweet, sour, salty flavors and lovely contrasting textures.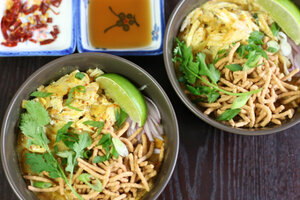 The Asian Grandmother's Cookbook
My mum loved to throw parties – big ones, small ones, medium ones – and there was always one constant: good food, and lots of it.
Cooking for company often meant days of prep and a kitchen bustling with activity morning till evening. Ma would grind spice pastes for dishes like beef rendang or pork satay. She'd braise turmeric-spiced chicken for hours on the stovetop ahead of the next step – deep-frying them the day of the party (yes, the chicken was cooked twice!). And I, as soon as I could fold neat corners, was roped in to roll lumpia (fried spring rolls) by the dozens. Ma never skimped when it came to entertaining family and friends.
We also had friends over on an ad hoc basis; neighbors, schoolmates, church friends, etc. came by our house weekly. On these occasions, Ma would make an all-in-one noodle meal. Prep was quick and easy and everyone could serve themselves. Her noodle repertoire ran along these lines: bakmi (egg noodles topped with pork and mushrooms), soto daging (noodles with beef and lemongrass soup), and Indonesian laksa (rice vermicelli noodles doused in a coconut-chicken-turmeric soup).
I recently discovered a Thai noodle dish similar to Ma's laksa and immediately fell in love with it. With the help of store-bought red curry paste, khao soi is fairly easy to make for dinner guests and tongue-tingly delicious! Because each noodle bowl is customizable, even kids can enjoy it (just start with a mild curry paste). And no one would guess it only takes 30 minutes to prepare.
This is my kind of entertaining.
Thai Red Curry Noodles (Khao Soi)
---