Creamy baked macaroni and cheese
(Read article summary)
Huddled against the cold? Creamy macaroni and cheese is just the comfort food we need for a blustery day. Use fontinella cheese for an especially creamy version.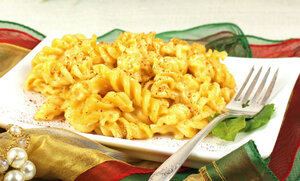 A Palatable Pastime
One of my daughter's favorite foods is macaroni and cheese. I think she could eat it every day! And she is not alone. There are millions (billions?) of die-hard cheese lovers out there who would enjoy nothing more than having this and nothing else.
When I was growing up, my mother made nothing like this. We got "blue boxed." And if you have never tasted anything else, you might really enjoy it. But once you have had mac and cheese made from scratch, macaroni mixes from a blue box aren't going to cut it. So if you want to maintain the relationship with blue boxes and remain a devoted fan, I simply must ask that you stop reading here.
However, I do hope you read on!
Contrary to popular belief, making macaroni and cheese really isn't that much of a fuss. No harder than boiling a pot of pasta and making a skillet full of gravy.
One of the difficulties that can be found when making cheese, however, is making it improperly. For one thing, cheese does not like being heated. If when making your sauce you add the cheese and stir it around and stir it around and the heat is still on and … all of a sudden the cheese became very very nasty.
What happened?
When cheese is overheated, the milk separates out from the fat, leaving a greasy film and the remaining cheese becomes stringy and grainy. I am sure we have all had it happen at least once. And I am quite sure none of us want it to happen again. You might see people discuss whether or not it occurred when using pregrated cheese or freshly grated, but the truth of it is, if you overheat the cheese it will break, no matter what kind you use.
---