The best films of 2011
Monitor film critic, Peter Rainer, remembers the hundreds of movies he watched in 2011, and highlights his favorites ... and some he thought were overrated.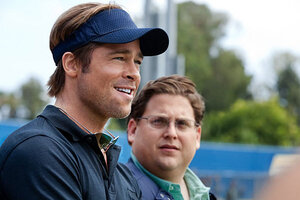 Melinda Sue Gordon/Columbia Pictures-Sony/AP
I saw about 300 movies in 2011. Hold your applause please. No matter how dismal the movies may sometimes have seemed – "The Hangover: Part II" anyone? "Transformers 508"? – I ended up, as always, with just enough goodies to justify all that time in the dark. (Let's see, 300 films times 100 minutes per movie....)
Before I take the high road, a few thoughts, crammed with caveats and cavils, on the past 12 months.
The "serious picture" niche, until this year, had mostly been filled with films about 9/11 and the Iraq war. But because most of those films ("In the Valley of Elah," "Stop-Loss," etc.) were commercial and critical flops, that particular trend, especially in the nondocumentary arena, is just about over.
Taking its place is a kind post-9/11 metaphysical mumbo-jumbo gumbo. Instead of addressing global terrors directly, we have movies that are charged with an often otherworldly dread. "Melancholia," which admittedly has a visually ravishing prologue, splices a nuptials-gone-wrong story line into a high-art disaster movie scenario. A giant planet named Melancholia is heading straight for Earth, and it even has Wagner's "Tristan und Isolde" as its theme song!
In "Take Shelter," a much better movie, Michael Shannon plays an ordinary man increasingly overtaken by visions of apocalyptic storms. His fears are singular and yet they connect with our larger anxieties about terrorism, the economy – everything.
Even a movie as specific in its scare-mongering as "Contagion" moves away from the headlines and turns apocalyptic (and, in my view, borderline exploitative, using our germ-warfare fears as grist for high-toned sci-fi pulp).
---