How parents keep the faith: Teaching the religion of Islam at home
Home, more than the mosque, is where the Malik children learn the religion of Islam – from Skyping to Pakistan for Quranic lessons to copying Mom's prayers.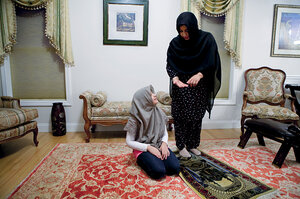 Melanie Stetson Freeman/Staff
The red brick walk outlines the quintessential suburban comforts – it passes a Honda Pilot in the driveway, winds through a manicured lawn, and ends at the white columned entrance to the Malik family's spacious newly built home.
But, says Salman Malik, who immigrated to the United States from Pakistan at age 9, there's something missing: "In the US, Muslim kids are in trouble [because] they lack role models and institutions."
And here, on the outskirts of Manchester, N.H., it's far from any Muslim community; a fledgling mosque is under construction, but it's a small institution without many services. So Mr. Malik and his wife, Romana, "have to step in to fill that void," he says. "We have no choice. Their [Muslim] identity is very important to us. We want to make sure they know who they are."
For guidance in Muslim practices, the girls look primarily to their mother. Unlike others in the family who can fall short of best intentions, Ms. Malik always prays five times a day, as Muslims are expected to do. Raabia, 15, tries to keep up by praying nearly as often as her mother. Henna, 11, sidles up to her mother at prayer time and follows along.
"When she starts praying, I listen to her, and whatever she says – I say it, too," Henna says. "When she goes down, then I go down. So I follow what she says and what she does, and that's how I memorize it."
---