How parents keep the faith: getting spiritual meaning at home, not church
These parents keep the faith – in Christ – by teaching spiritual meaning in everything from the food they eat to TV commercials.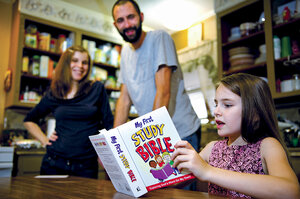 Ann Hermes/Staff
Ten-year-old Secilya Tomplait has a clear sense of her God-given purpose even though she's rarely been to church or Sunday school. She's learned it from her pink children's Bible, her Christian homeschooling mom, and that most unwelcome of teachers: tragedy.
Secilya, the eldest of four, lost her younger brother, James, in July 2009 when he drowned in his grandparents' pool. Now she carries on where he left off, she says, whether she's praying her favorite psalm (Psalm 91) to allay fears before bed or preparing to "keep good people out of jail" when she becomes a lawyer someday.
"Since James's accident, I've seen life in a certain way," Secilya says on a lesson break. "God plants a seed. It grows into a beautiful flower. Then the flower withers away and leaves many seeds behind it, so that more flowers can grow." Does she feel like one of those seeds? "Yes, sir, I do."
Readiness for heaven has become a family priority since James's accident, says the children's mother, Meshele Coleman Tomplait. Today, Secilya and her 8-year-old sister, Ellie, are learning how to get to heaven. At the kitchen table, they copy Romans 10:9: "If you confess with your mouth, 'Jesus is Lord,' and believe in your heart that God raised Him from the dead, you will be saved."
Even as they grieve, the Tomplaits find spiritual meaning in the home, not the church. Each of the children was baptized at home by their Cajun, Roman Catholic great-grandmother. The family tends not to trust local churches, Ms. Tomplait says, because they find preachers in this rural area often emphasize adherence to man-made rules. Example: When this family of modest means hears that righteousness requires regular donations, they don't believe it's God's command.
With her electrician husband, Timothy, Tomplait guides her children to live by the day's opening prayer: "Teach us to think like You think, to see with Your eyes, to speak with Your words, and to feel with Your heart."
---