Katie Couric: Can the former TV newscaster make it as a talk show host?
Katie Couric struggled with ratings as a TV news anchor. She's about to launch a new afternoon talk show aimed at women, but audience tastes are changing and she faces lots of competition.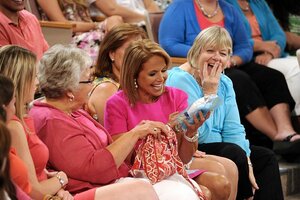 Ida Mae Astute/Disney-ABC Domestic TV/AP
Katie Couric's new afternoon talk show debuts Monday as pundits and public ask the burning question: "Since she was too chatty for evening news, will she be too newsy for afternoon chat?"
Her first week of guests include Jessica Simpson, who will talk about the challenge of losing pregnancy weight; Aimee Copeland, the 24-year-old Georgia grad student who gained national attention over the summer for losing parts of her limbs to flesh-eating bacteria; and Jennifer Lopez, who will talk about life after "American Idol." Ms. Couric will also introduce a segment called "YOLO" (You Only Live Once), as she takes a lap around the Indianapolis Motor Speedway with racecar driver Danica Patrick.
Later segments include a bucket list of to-dos, and "Women Who Should Be Famous."
"Katie" – broadcast live from New York with a studio audience – will be aired at 3 p.m. in most markets, produced and distributed by Disney-ABC. Couric also has a separate deal to appear occasionally on ABC News.
---