After this flood, FEMA earns praise
Federal, state, and local agencies responded quickly, say many Midwest residents.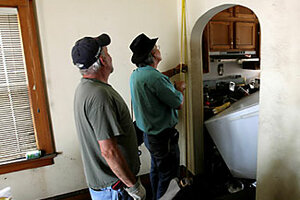 Seth Wenig/AP
When the prospect of major flooding in Iowa loomed more than three weeks ago, the state's emergency management office got busy.
Local officials were alerted, sandbags were sent out, and the office's new software kept track of emergency missions and allowed local groups to check on how quickly their requests for sandbags or water were being fulfilled.
The impact of the floods – in terms of homes and businesses destroyed, crops ruined, and property lost – has been severe. But the perception of how well the federal, state, and local emergency responders performed, from Federal Emergency Management Agency (FEMA) on down, contrasts sharply with the criticism such entities received after hurricane Katrina, the 1993 floods, and other recent disasters.
"It's been mostly positive," says Dan Wilson, mayor of Columbus Junction, Iowa, which experienced substantial flooding when a levee overflowed. "Everything we did in preparation ... from preparedness to recovery, I thought we had a lot of help along the way."
Such positive reviews are a welcome change for government agencies, and particularly for FEMA, which had been widely derided after its Katrina response.
"FEMA learned a lot of lessons from its performance during Katrina and Rita," says Harvey Johnson, deputy administrator for FEMA. In particular, he cites the agency's quick deployment of supplies – water, packaged meals, generators, cots – to states even before the flooding occurred or disaster declarations were issued.
"We're trying to look ahead and anticipate, rather than wait until the event occurs and clang the bell, and respond late," says Mr. Johnson.
---