Haiti earthquake: call to let Haitians in US illegally stay
The US Department of Homeland Security has halted deportation of Haitians in the wake of the Haiti earthquake. But some are pressing for some 30,000 Haitians in the US illegally to be given 'temporary protection status'.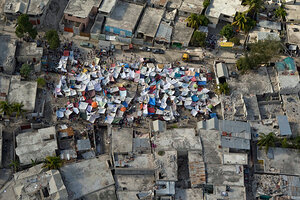 Logan Abassi/The United Nations/AP
For years, activists have protested immigration laws that they say restrict Haitians' hopes of building new lives in the US. Enduring dictatorship, natural disasters, and economic despair in their homeland, Haitians deserve a more sympathetic approach, they argued.
Now with Haiti facing the biggest humanitarian crisis of its history, reform advocates are pushing once more for a softening of America's immigration rules. Haitian-Americans and immigration activists are calling on the US government to grant temporary protected status (TPS) to 30,000 undocumented Haitians currently living in America, in order to allow them to work and send money home to their loved ones.
Such remittances could throw a lifeline to hundreds of thousands on the island, providing them with the means and motivation to rebuild, discouraging potentially deadly self-evacuations on the high seas, and making an important gesture to demonstrate America's commitment to Haiti's future.
"Without TPS, these people cannot go to work here and feed their kids and send money to their family in Haiti. Keeping them in that condition is not helping anybody, they are not getting the same treatment that other nations have received," complained Dr. Bernier Lauredan, president of the Washington DC-based Haitian League, which represents the Haitian diaspora in the US.
The US Department of Homeland Security announced Wednesday that it has temporarily halted deportation of Haitians in the wake of Tuesday's earthquake. But officials did not say anything about granting TPS to Haitians.
---