Small Illinois town willing to be next Guantanamo
President Obama wants to ship Guantanamo Bay detainees to a rural Illinois state prison. Why are locals welcoming the detainees?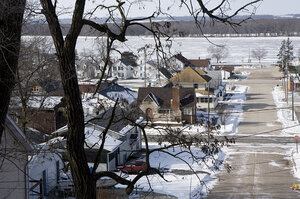 Melanie Stetson Freeman / Staff
As in many small towns, pride here comes in small doses: the single stoplight that hangs in nearby Savanna, the only one in the county; or the fact that Thomson is known as the "melon capital of the world" for its prodigious crop of summer's sweetest treat.
Quaint particulars like those are about to be upended in this Mississippi River town with a turn of events guaranteed to put it on the world map – and possibly save an area that is among those hit the hardest by the nation's economic decline.
President Obama wants to ship Guantánamo Bay detainees to the Thomson Correctional Center, a nine-year-old underutilized state prison in northwest Illinois, making it the federal prison system's second "Supermax" facility.
At an eight-hour hearing in late December at a high school auditorium in nearby Sterling, Ill., political leaders grilled state and federal officials and took public comments on whether the sale of the facility to the US Federal Bureau of Prisons and the Department of Defense would be a good deal – would guarantee the 3,000 jobs and $1 billion in development announced in the planning.
People also pressed officials, in the words of state Sen. Matt Murphy (R), for guarantees that "Al Qaeda will not use Thomson in the future as a recruiting tool."
---