One place in Louisiana people are praising BP
BP has been roundly criticized by federal and state officials for its oil spill cleanup efforts. But one local official points to signs of progress and cooperation.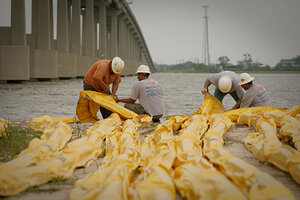 Newscom
Bayou Sauvage National Wildlife Refuge, La.
At a time when federal and state officials have spared few criticisms of BP and its efforts to clean its oil spill in the Gulf of Mexico, at least one local leader is full of praise.
The goal of St. Tammany Parish President Kevin Davis is to protect Lake Pontchartrain, which was only recently declared safe for all recreational activities after a two decade-long effort to clear the lake of toxic pollutants.
In this goal, he says, he has found a competent and willing partner in BP. It didn't start that way, with Mr. Davis having to order and position thousands of feet of containment boom last week precisely because "nothing was being done by anyone."
IN PICTURES: Louisiana oil spill
But since Davis and leaders from other parishes around the lake began taking action, "BP has really come on board with us, and now we have many more resources to work with, and they have a full-time representative on our team."
The incident illustrates the confusion that has beset some relief efforts along the Gulf Coast and the promise of cooperation that remains.
---