Despite BP oil spill, Louisiana still loves Big Oil
Deepwater drilling and Louisiana are synonymous. Despite the BP oil spill, the industry is still seen as delivering lifeblood.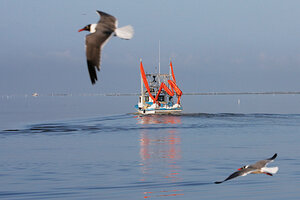 Hans Deryk/Reuters
One week after the Deepwater Horizon oil rig collapsed into the Gulf of Mexico, a letter arrived on President Obama's desk from Sen. Bill Nelson (D) of Florida, demanding an immediate moratorium on offshore oil drilling.
The same day, Florida Gov. Charlie Crist – a man once seen cheering as Sarah Palin said "drill here, drill now" – called for a special state legislative session to ban offshore drilling.
Even on the other side of the continent, the effects of the Gulf oil spill were transformative: Republican Gov. Arnold Schwarzenegger withdrew his support for limited drilling off the California coast.
IN PICTURES: Louisiana oil spill
"If I have a choice between the $100 million [for drilling] and what I see in the Gulf of Mexico, I'd rather just figure out how to make up for that $100 million," he said May 3.
Yet in Louisiana, the state where the spill poses the greatest threat to fragile and environmentally vital marshlands, as well as to the entire fishing economy, talk of coming down hard on offshore drilling is virtually nonexistent.
---