Oil spills hit on land, too: Aging pipelines imperil Midwest
Oil spills in recent weeks, from Canadian-owned pipelines that supply Midwest refineries, are another sign of nation's aging infrastructure. Latest spill expected to raise Midwest gas prices by 30 cents a gallon for several weeks.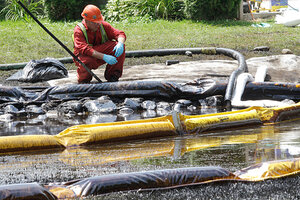 Paul Sancya/AP/File
Two oil spills between late July and last week in Michigan and Illinois are expected to significantly raise prices at Midwestern gas pumps even as they raise questions about the aging infrastructure of pipelines delivering oil and natural gas from Canada to Midwestern refineries.
The two broken pipelines are owned by one company: Enbridge Energy Partners of Calgary, Alberta, a firm that is poorly regarded by environmentalists for a large, and increasing, number of spills that have dumped millions of gallons of crude into the environment over the past decade.
The company is the largest from Canada to deliver oil and natural gas into the United States. The majority of its oil and gas ends up in the Midwest, at refineries located in Illinois, Indiana, Kansas, Minnesota, Ohio, Oklahoma, and Wisconsin.
---