Jeremy Bernard first man to be White House social secretary
Jeremy Bernard is not only the first male appointed to the position of White House social secretary, he is also the first openly gay person to hold the post.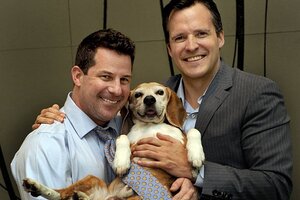 Linda Davidson/Washington Post/AP
For the first time in history a man will become the White House social secretary. Jeremy Bernard will join the White House staff from the U.S. Embassy in Paris, where he serves as Senior Advisor to the Ambassador.
Bernard was an early supporter of Obama in Southern California, and he raised a substantial sum of money for Obama's 2008 presidential campaign. The Texas native's resume includes a background in finance and a stint on the President's Advisory Commission for the Kennedy Center under Bill Clinton. Bernard has also served on several advisory boards for gay and lesbian issues.
Bernard, who is openly gay, and his former partner Rufus Gifford were known for raising capital through their company, B&G Associates. Gifford then became finance director of the Democratic National Committee. After the election, Bernard accepted a position as White House liaison to the National Endowment for the Humanities.
---
Follow Stories Like This
Get the Monitor stories you care about delivered to your inbox.