Record-breaking floods force engineers to blow up Mississippi River levee
On Monday evening, the Army Corps of Engineers will flood farms in southern Missouri to save river towns, after a legal challenge by the Missouri attorney general failed Sunday.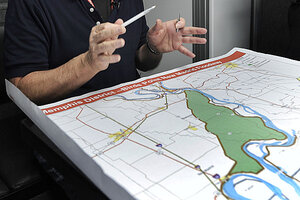 Fred Lynch / Southeast Missourian / AP
The head of the Mississippi River Commission has given the go-ahead to blow a hole in a 56-mile long levee along the Mississippi River tonight, in an attempt to keep record floodwaters from swamping river towns near the junction of the Mississippi and Ohio Rivers.
The announcement late Monday afternoon caps days of preparation – and legal wrangling – over the move. The breaches, scheduled to be blasted Monday between 9 p.m. and midnight CDT, would mark only the second time in nearly 82 years that the levee, part of the Birds Point-New Madrid floodway, has been activated.
"We have exceeded the record stage already, at Cairo," said Major Gen. Michael Walsh, president of the commission, in a prepared statement announcing the decision. "We are on a course to break records at many points as the crest moves through the system."
"I don't have to like it, but we must use everything we have in our possession ... to prevent a more catastrophic event," he said.
Blowing this section of levee "does not end this historic flood," he said, but engineers say they expect the effort to reduce flood levels by up to four feet at Cairo, Ill., the community in the most immediate danger.
At a briefing over the weekend, Walsh held out the possibility of activating other floodways along the lower Mississippi, if conditions warranted.
The floodway
---